If you are thinking about removing old paint and varnishes from your wood furniture in order to remake it into something that looks brand new then wood stripping is the way to go. It is the best way to remove all of the old paint and varnish layers leaving the wood bare and letting you start over. Stripping your wood furniture is the best way to make sure everything has been removed and allows you to start anew.
Why hire a professional to do the job? Professionals have been trained and performed wood stripping techniques already so they can get started on the job quicker. Also, already having the training and experience allows them to know what works and what doesn't work in order to get the job done the from the start. Finally, the most important part to hiring a professional is due to the possible dangerousness of wood stripping chemicals. They can be harmful to skin and produce toxic fumes as well as they need to be properly cleaned off the wood surface before any new painting can occur. 
Below is a podium that was damaged by fire, soot, and water. We were able to strip, sand, stain and finish the wood podium and now it looks better than ever thanks to the first step in the process, wood stripping.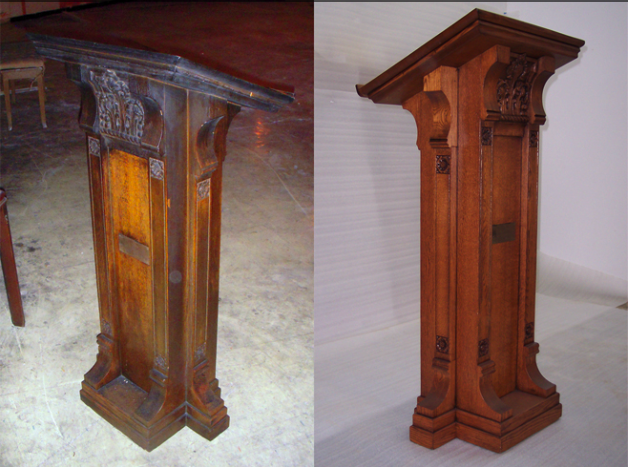 If you would like to see examples of wood stripping projects we have done, take a look at our portfolio then request a quote and find out how we can help you with your old wood furniture.